Sanitary Butterfly Valves
Our Hygienic butterfly valves are designed to fit your system requirements.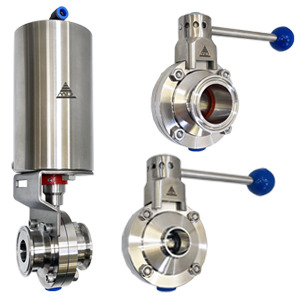 Modentic Sanitary Butterfly Valve is designed for highly hygienic requirements in the pharmaceutical, food, cosmetic and beverage industries. Modentic Hygienic Butterfly Valve is a self-standing valve that comprises a disc-shaped disc with the sealing surface on the edge and an annular valve seat.
Sanitary butterfly valves are available in Manual, Air Actuated, or Electrical Actuated. Clamp or Weld ends are standard. Other connections are available upon request.
Seat materials include Silicone, Viton®, and EPDM. Sizes range from 1˝ through 4˝. All product contact surfaces are available in either 304 316L stainless steel or even high nickel alloy such as alloy C22 and alloy C276.